January 27, 2014
(1916-1983)
This past summer, my wife and I had the opportunity to travel to Italy.  (I was performing at a conference there.) On route from Assisi to Rome, there was a relatively obscure, off-the-beaten-path sculpture garden called "Sacro Bosca" (literally "Sacred Grove") in a small town called Bomarzo. The sculptures were carved in the 2nd half of the Renaissance (late sixteenth-century).  Here's a brief video of my wife at one of the carvings:
This past week, I stumbled upon an opera by Alberto Ginastera connected to Sacro Bosca.
TITLE: Bomarzo
This opera is unrelentingly depressing.  Here's the basic plot:
Pier Francesco Orsini (a hunchback), the Duke of Bomarzo, has a drink that his astrologer told him was a magic potion that would make him immortal. However, the drink turns out to be poisoned. After the poison starts to work, Bomarzo reflects upon his life in a series of flashbacks.  They are all depressing:
His father drags the young Pier Francesco into a room where a large skeleton dances and haunts him.
His father falls in battle.
He visits a courtesan but keeps catching sight of his deformed body in the many mirrors in her room.
His brother falls from a cliff and dies.
His wife likes another man more than him.
He becomes impotent.
He has large stone sculptures carved on his estate, symbolic of his tortured feelings. (By the way, there is no evidence in reality to support this statement.  In reality, he had them carved to entertain visitors to the estate).
After all the flashbacks, we see him drink the poison (again) and he dies in the mouth of one of his sculptures.  Maybe this one?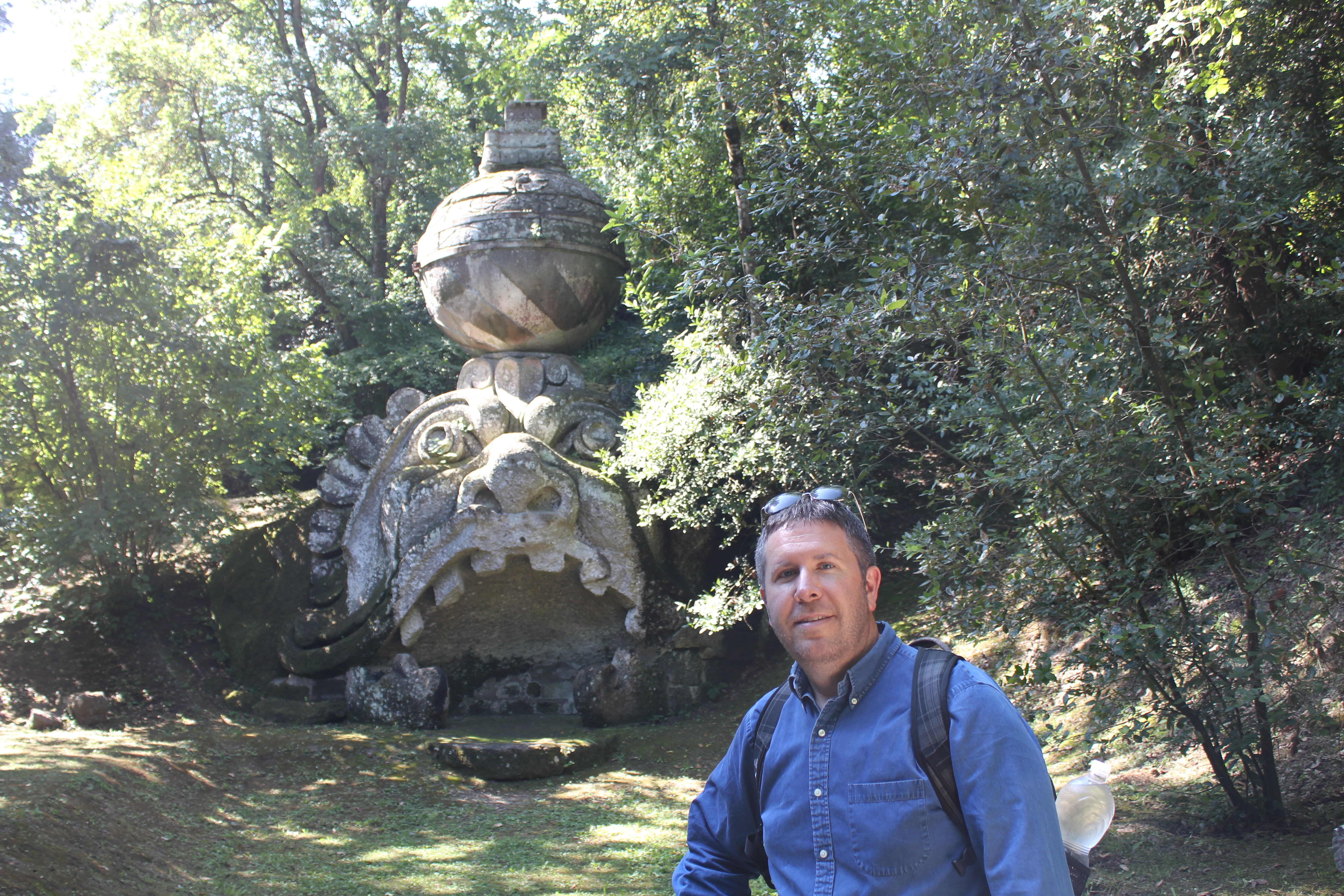 So if it is indeed unrelentingly depressing, why would I bother listening to it?  Because Ginastera wrote some cool music and used some unusual techniques—for example, a harp tuned to quarter steps:
Most of the opera sounds like the following:
Not the most appealing music, in my opinion…
For me, the most interesting music is at the beginning of each act, like the harp example above.  Also, in the 2nd act opening, there is a brief section where a cello (or viola?) plays a dissonant "modern" melody with the quarter-tone harp, but then the harp is replaced with a mandolin and then with a harpsichord.  I wonder if Ginastera's intent was to reflect the time period in which the opera was set by his choice of instrumentation.
HIGHLIGHT: Also in the start of the 2nd act is a moment where Ginastera wanted to have the spectre of death loom over the proceedings (in a musical way), so he uses the famous "Dies Irae" melody to great effect.
Here's the original Middle Ages plainchant
And here's how Ginastera quotes it in "Bomarzo."
WHAT'S LEFT TO LISTEN TO BY GINASTERA?:  An extraordinarily large amount, including film scores.  I'll do my best…