May 28, 2014
(1923-2006)
György Ligeti was born in Transylvania on May 28, 1923.  So…Happy Birthday, Ligeti! If he were alive today, he'd be 91.
Ligeti is best known for his unusual effects like this (from a piece called "Lux Aeterna"):
Of this type of music, he said:  "My idea was that instead of tension-resolution, dissonance-consonance, and other such pairs of opposition in traditional tonal music, I would contrast 'mistiness' with passages of 'clearing up.'"
Here's another example of this type of music, from his piece for orchestra entitled "Atmospheres."
As a woodwind player, I first became acquainted with the music of Ligeti through his most-played wind quintet piece—
TITLE: Six Bagatelles
DESCRIPTION OF THE PIECE:
This piece (composed about ten years before "Atmospheres" and "Lux Aeterna") does not feature his "mistiness moving towards clearing up;" instead, it's more traditional in terms of tone color usage.  However, the way he uses the tone colors of the wind quintet is quite interesting. Sometimes you forget that you're listening to a mere five instruments.
Here is a link to a fantastic YouTube video of a group that understands the importance of appearance when performing.  Note, they are standing, they are active, they are not using music stands, they are choreographed—it is extremely engaging and exciting to watch.
I. Allegro con spirito (fast with spirit!)
This movement is fast and virtuosic and JUST about dissonant enough to offend the ear (if you abhor any sense of dissonance) but not quite dissonant enough to turn the average listener away.
II. Rubato. Lamentoso.
2nd movement starts at 1:34 in the video.    Note at the ending we get a hint of what he achieved with his later works when the last dissonant chord "clears up" into a major chord.
III. Allegro grazioso
3rd movement starts at 4:34 in video.  Note that the clarinet and bassoon begin by passing off septuplets (seven notes to a beat) while a lovely, almost Celtic-sounding melody floats on top.  The instruments switch roles here and there so that the overall effect is almost orchestral.  One of my favorite movements to listen to (Note: I said "listen to"; I don't enjoy playing it—those septuplets are deadly).
IV. Presto ruvido
4th movement begins at 6:54 in the video – fast and very difficult to put together as a group.  Every so often Ligeti changes the meter so that a single sixteenth note will be left out which means everyone has to be superb at changing meters, or very adept at "skipping" a note.
V. Adagio. Mesto – Belá Bartók in memoriam
5th movement begins at 8:02 in the video – very much like a funeral march.
VI. Molto vivace. Capriccioso
Final movement begins at 10:24 in the video – another extremely difficult and fast movement for a group to put together.  Overall this is an astounding piece and the group in this video is amazing.
HIGHLIGHT:  As I mentioned above, I'm quite fond of the third movement.
As you may know about me, I enjoy taking photos of famous composers' graves, statues, homes, etc.  And usually I like to be seen popping out from behind the tombstone in my photos.  That might sound irreverent or disrespectful, but I prefer to think of it as taking a candid playful photo with a friend.
When I first saw Ligeti's grave in Vienna, Austria, I wasn't sure how to hide behind the tombstone.  Here it is: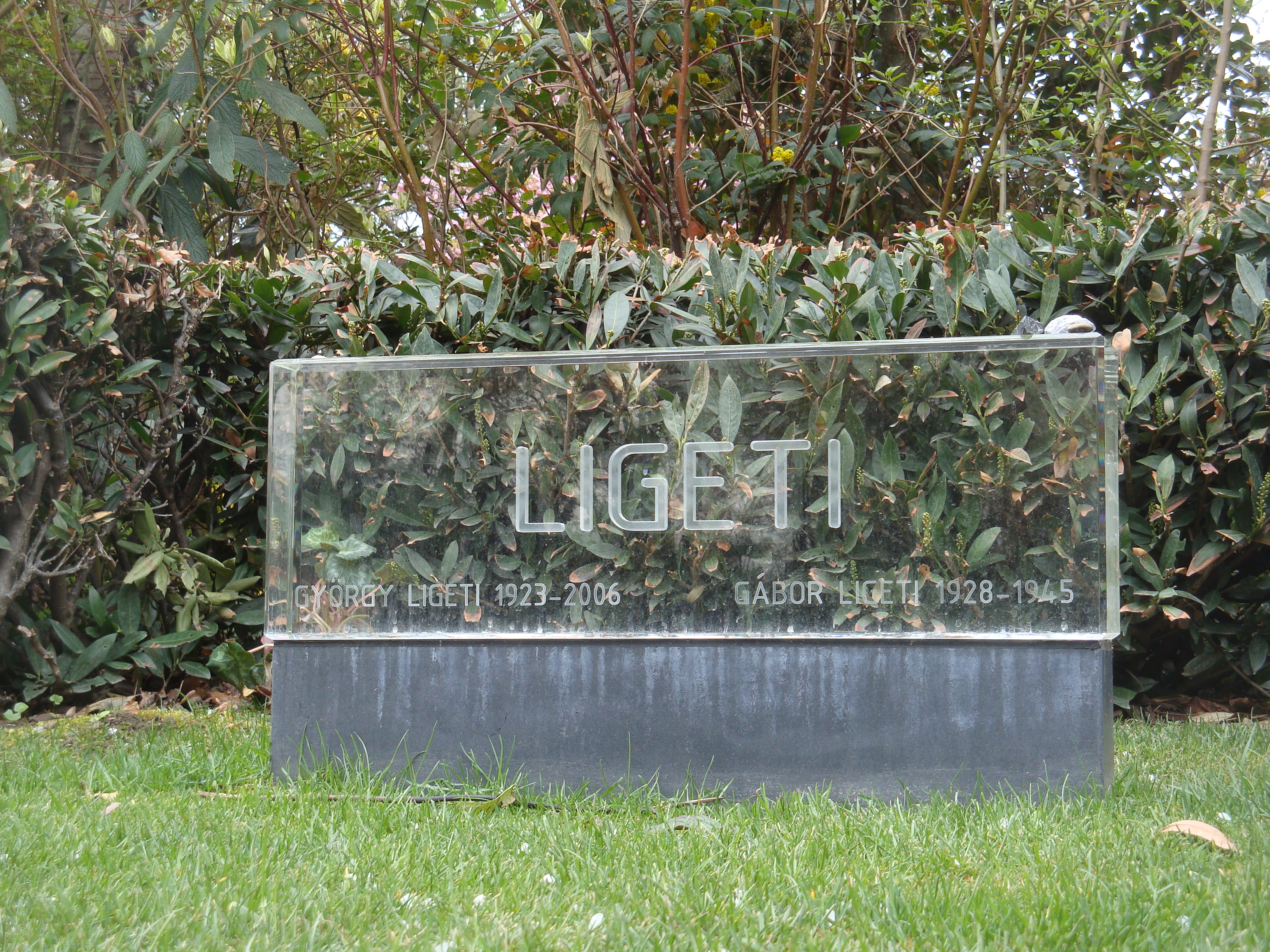 But I think I managed quite nicely.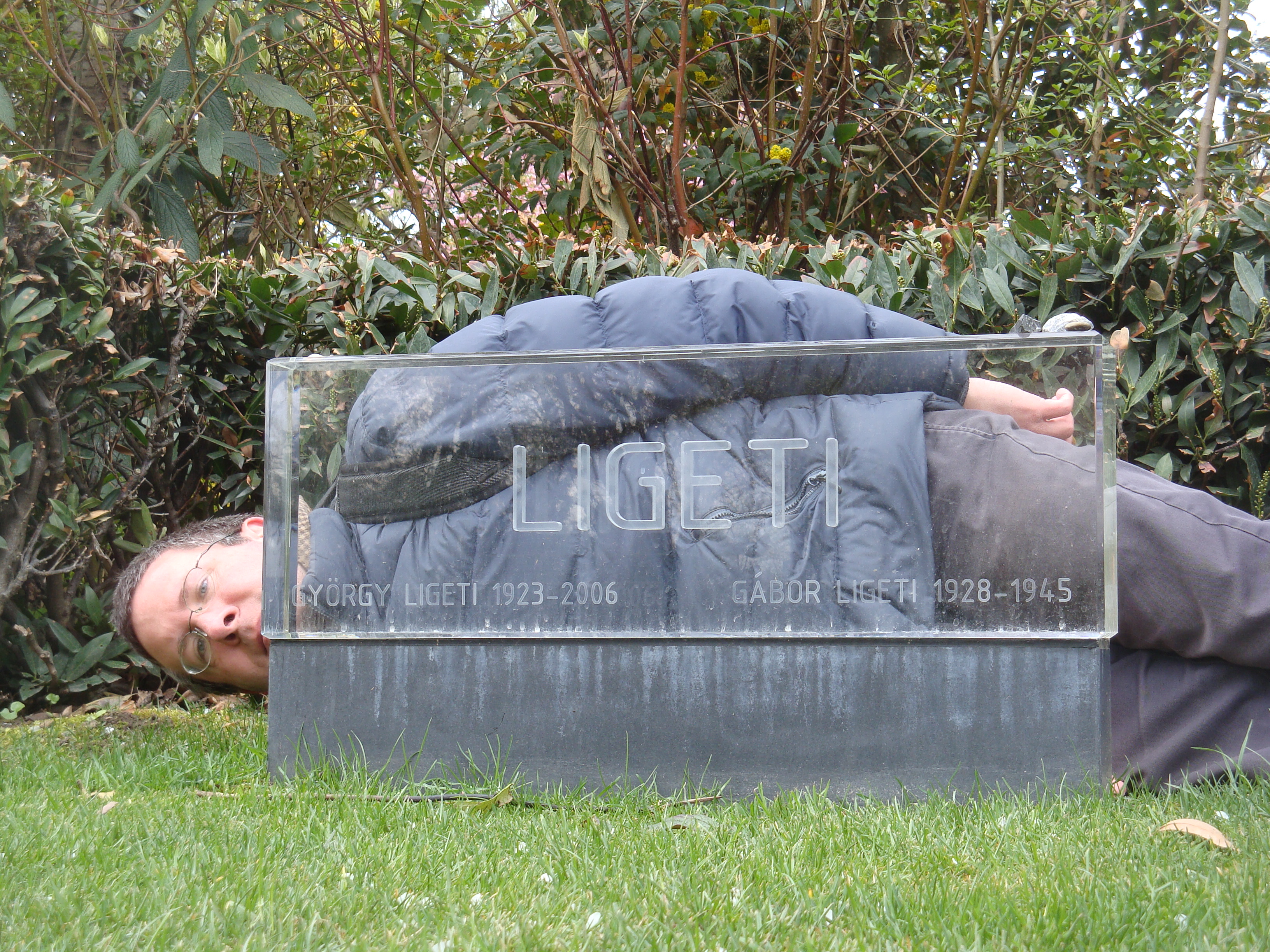 WHAT'S LEFT TO LISTEN TO BY LIGETI?:  A lot, but I'll do it!