December 25, 2013
(1803-1856)
Me and my youngest at Adam's grave in the Montmartre Cemetery, Paris, France.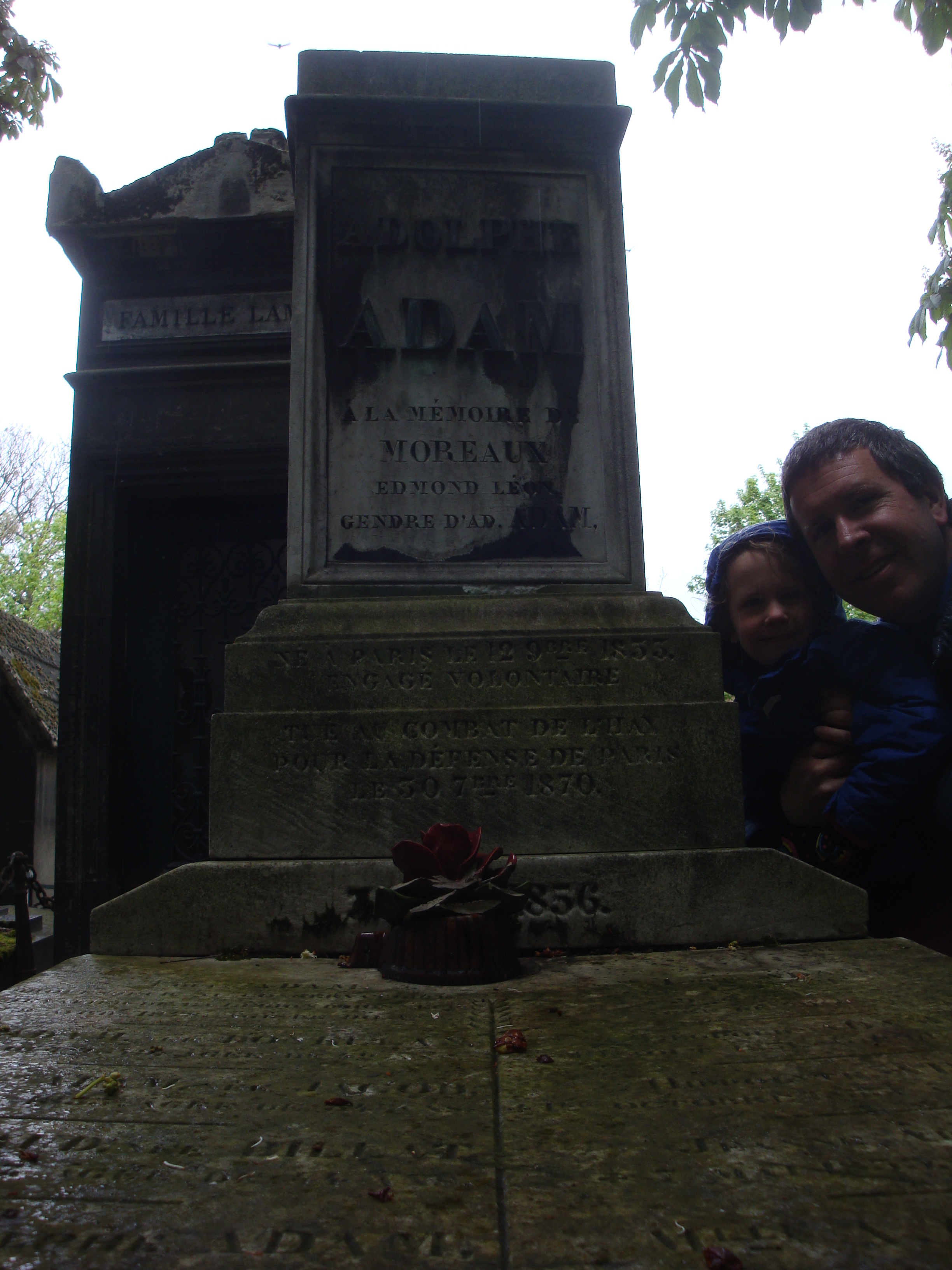 "Who?" you might be asking. Adolphe Adam was a Romantic Era composer best known for his ballets and operas.  His most famous ballet is Giselle, which is still performed with regularity throughout the world.  Here's a little snippet of that (so you can hear that it's pretty cool). This excerpt is called "Retour de la vendange" (The Grape-Pickers Return) and is from Act I.
Or if you want to see some (or all) of it, go to YouTube and type "ballet Giselle" in the search box.  Here's a link to the complete ballet: http://www.youtube.com/watch?v=DT4C5Sc8geA
If you read the uploaders comments you'll find the entire plot of the ballet.
BUT, the reason I chose to look Adolphe Adam's music this week is because his MOST famous composition of all time is:
TITLE:  Cantique de Noel
DESCRIPTION OF THE PIECE: This piece is most commonly referred to as "O Holy Night." Despite the fact that it is overplayed and often poorly-performed, I like this carol a lot.  I think it is quite beautiful.
Here is the more literal translation of the original French text (I think you'll see that it's quite moving, and perhaps even more powerful than the usual, more poetic, English translation):
Midnight, Christians, it is the solemn hour,
When God as man descended unto us
To erase the stain of original sin
And to end the wrath of His Father.
The entire world thrills with hope
On this night that gives it a Saviour.
People kneel down, wait for your deliverance.
Christmas, Christmas, here is the Redeemer,
Christmas, Christmas, here is the Redeemer!
May the ardent light of our Faith
Guide us all to the cradle of the infant,
As in ancient times a brilliant star
Guided the Oriental kings there.
The King of Kings was born in a humble manger;
O mighty ones of today, proud of your greatness,
It is to your pride that God preaches.
Bow your heads before the Redeemer!
Bow your heads before the Redeemer!
The Redeemer has broken every bond:
The Earth is free, and Heaven is open.
He sees a brother where there was only a slave,
Love unites those that iron had chained.
Who will tell Him of our gratitude,
For all of us He is born, He suffers and dies.
People stand up! Sing of your deliverance,
Christmas, Christmas, sing of the Redeemer,
Christmas, Christmas, sing of the Redeemer!
For a contrasting opinion, please read this–http://www.signifyingsoundandfury.com/2013/12/why-i-dont-like-o-holy-night.html
written by my friend and former student, Peter Shirts. I agree with his reasons for not liking it, but I still like it!
HIGHLIGHT: It's a relatively short piece, so I guess the highlight is simply when it is performed well, for instance, in this church service, during communion, at the Liverpool Metropolitan Cathedral.  The first boy soprano soloist is particularly impressive.
http://www.youtube.com/watch?v=D5YJASeJ_hQ
WHAT'S LEFT TO LISTEN TO BY ADAM?:  Fourteen ballets and over 70(!) operas.  I'll work my way through them over time…